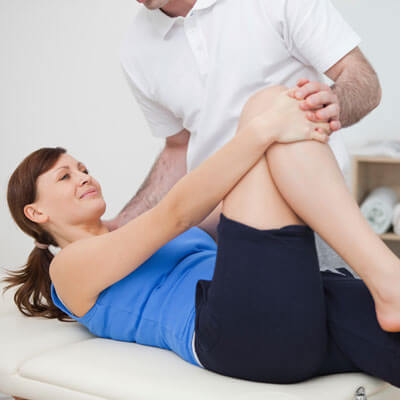 Physiotherapy, a form of rehabilitative health care concerned with human function, movement, and maximizing potential, focuses on reducing pain, correcting dysfunction and addressing injury.
Here are some of the many issues physiotherapy can address:
Joint dysfunction
Nerve entrapments
Back pain
Neck pain
Rotator cuff injuries
Post-surgical rehab strengthening
Posture correction
Because the scope of physiotherapy is vast, it's an ideal option for various injuries and conditions.
One of the standout features of physiotherapy is its ease of accessibility. Unlike some other forms of therapy, physiotherapy claims are generally straightforward and hassle-free.
So, if you're seeking treatment for a specific condition or injury, there's a good chance that your health benefits will cover physiotherapy.
How Does It Differ From Massage?
Many people wonder about the difference between physiotherapy and massage therapy. While both use different techniques to promote healing and alleviate pain, there are key distinctions between the two.
Physiotherapy incorporates a range of modalities such as shockwave, ultrasound, cold laser, and exercise balls for core stability. In addition to these modalities, physiotherapists also focus on stretching and active exercises to improve mobility and strength. Unlike massage therapy, which typically involves deep tissue work and passive techniques, physiotherapy emphasizes an active approach to care.
A Complement to Chiropractic Care
Did you know that integrating physiotherapy and chiropractic can offer significant benefits in many cases?
For instance, if chiropractic adjustments alone aren't providing the desired results for low back pain, incorporating physiotherapy techniques such as stabilization exercises can help strengthen the surrounding muscles, making the adjustments more effective and longer-lasting. Similarly, for conditions like rotator cuff injuries, a combination of chiropractic adjustments and physiotherapy can address both spinal alignment issues and shoulder inflammation, improving overall outcomes.
The benefit of receiving treatment at our practice is that we offer both chiropractic care and physiotherapy under one roof. This means you don't have to go anywhere else to receive the comprehensive care you need.
Frequently Asked Questions
What should I expect during a session?
Sessions typically involve an active approach, including exercises, stretching, and various modalities. Your physiotherapist will guide you through a personalized treatment plan depending on your specific condition.
Do I need to bring anything to my session?
It's helpful to wear comfortable clothing that allows easy access to the treated area. For example, wearing shorts would be ideal if you have knee pain. Additionally, many athletes opt for taping, so it's a good idea to let your physiotherapist know if you're interested in this.
Do physiotherapists have a high degree of education?
Yes. Physiotherapists undergo rigorous training programs and are highly educated in their field. They possess the knowledge and expertise to provide effective treatments and guide you on your rehabilitation journey.