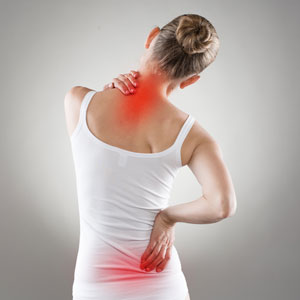 Osteoarthritis Treatment in Burlington
A common cause of joint pain in the neck, lower back, knees, hips and even your hands can be osteoarthritis. This joint disease occurs when your joints begin to wear down as you age or following an injury. It causes the cushions (cartilage) between your bones (vertebrae) to deteriorate. Your body then develops bone spurs that affect joint motion and cause pain.
When you visit Dr. Obeid and his team for care, you will receive a combination of chiropractic, physiotherapy and massage therapy to combat the symptoms you may be experiencing.
NEW PATIENTS

How Chiropractic May Help
Chiropractic adjustments help those suffering from osteoarthritis by reintroducing mobility into the spine, allowing fluids to move freely into the joint spaces again and lubricating them.
From there, physio programs strengthen the areas and muscles around the area. Through massage therapy, the muscles are relaxed to release the tension they may be carrying. These modalities work together as a team, with chiropractic taking the lead.
What to Expect
After filling out paperwork in advance of your first appointment, Dr. Obeid or one of his team members will review it to better understand what you are experiencing, your lifestyle, and your health history. You will then receive standard physical, orthopedic, neurological, and chiropractic tests to determine the root cause(s) of your problem.
If further diagnostic imaging is necessary, Dr. Obeid and his team will let you know. Additional views may be taken to visualize the location of any spinal problems, reveal any pathology, and make your chiropractic care more precise. If necessary, an adjustment may be done at this time. A second visit will be scheduled.
Your Report of Findings
During your second visit, the doctor will give you a report of findings, as well as his recommendations for care. This will include a diagnosis, how we plan to address the problem, when you should expect results, and how much it will cost. If you decide to proceed, you'll receive your care plan and schedule the next visits.
Regain Mobility in Your Body
The length of care for osteoarthritis before results can be felt depends on the severity of your case. However, patients typically feel changes in fluidity and less stiffness in their daily lives within the first 12 visits.
Without care, it can continue to cause detrimental effects on your mobility within the joints. Call us today to schedule a consultation at (905) 333-9900.

Osteoarthritis Treatment Burlington, ON | (905) 333-9900